Alootook Ipellie (1951-2007)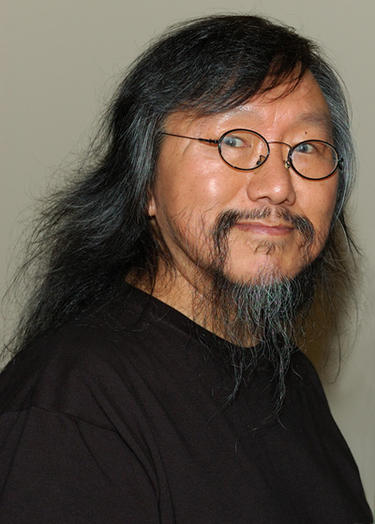 Alootook Ipellie was born in a camp near Iqaluit (formerly Frobisher Bay), the capital of Nunavut, where he spent his childhood and teenage years experiencing the transition from a traditional nomadic way of life to life in government-sponsored Inuit village settlements. In 1973, after a short stint as an announcer and producer for CBC Radio in Iqaluit, he moved to Ottawa to study and pursue a career in art.  He became involved with the Inuit Tapirisat that same year and took on the duties of principal writer, designer, photographer, and translator of Inuit Today, later serving as the magazine's editor from 1979 to 1982.
As a noted artist and important figure in the Inuit literature movement, Ipellie's essays, stories, and poetry have been featured in Northern Voices: Inuit Writing in English (University of Toronto Press, 1988) and An Anthology of Canadian Native Literature in English (Oxford University Press, 1998), and his artwork has been widely exhibited in Canada and Greenland.  In Arctic Dreams and Nightmares (Theytus Books, 1993), he reinterprets Inuit myths through short stories and striking pen-and-ink illustrations.   He is also known for his humorous and often bitingly satirical cartoon series Ice Box, which appeared in Inuit and Inuit Today magazines, and his weekly series Nuna & Vut, which ran in Nunatsiaq News in the 1990s.  With David MacDonald, he also co-wrote a children's book, The Inuit Thought of It, which describes Arctic innovations such as kayaks and shelters built to withstand harsh winter weather.
Ipellie notes, "I've always thought writing and storytelling were means of exploring some parts of truth about human nature, and that stories need to be told or written in order to understand ourselves better. They are essentially tools we use to help express our 'silent voices' within our conscious or unconscious minds. Writing and storytelling allow us to escape our own predicaments in this physical world and free our minds to go beyond it."
In 2001, Ipellie exhibited a selection of political and satirical cartoons at St. Lawrence as part of that year's Festival of the Arts, From Nanook to Nunavut: The Art and Politics of Representing Inuit Culture.