About the Collection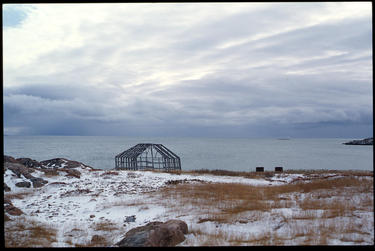 The Canadian Inuit art collection at St. Lawrence University includes more than 125 original prints, drawings, photographs, and carvings from Cape Dorset, Pangnirtung, and Baker Lake. Highly distinguished artists in the collection include Kenojuak Ashevak (1927-2013), Kananginak Pootoogook (1935-2010), Pudlo Pudlat (1916-1992), Kavavaow Mannomee (b.1958), and Ningeokuluk Teevee (b.1963). A series of editorial cartoons by the late Alootook Ipellie (1951-2007) is also featured.
Inuit art holds a particular attraction for a university teaching collection as it offers many disciplines a starting point for discussions on nature and the environment, traditional stories, spirituality, social and political commentary, aesthetics, and design. Faculty and students in Canadian Studies, Environmental Studies, Art & Art History, English, and other departments and programs are encouraged to utilize the collection in their courses for research, writing, and oral assignments.
The Richard F. Brush Art Gallery has had a longstanding interest in Inuit art and has been actively acquiring works since the early 1990s. In 2001, as part of that year's annual St. Lawrence University Festival of the Arts, the gallery presented From "Nanook" to Nunavut, which explored the representation of Inuit art and culture through an exhibition of prints by Jessie Oonark, drawings by Alootook Ipellie, and photographs by Alison Wright and Norman Hallendy. A faculty/student research trip to Baffin Island in 2000 provided the foundation for these exhibitions.
In 2005, an exhibition entitled Far North: Inuit Prints and Drawings from Cape Dorset focused on the work of artists from what is one of the most important and innovative centers of Inuit art. Recently, the gallery acquired the 2009 Cape Dorset print collection, which was released by Dorset Fine Arts to mark Kinngait Studio's 50th anniversary. Nipirasait: Many Voices, an exhibition based on the 36 prints in the collection, premiered at the Canadian Embassy in Washington, D.C., in 2010, and was presented the following year at St. Lawrence University and the College of Wooster Art Museum in Wooster, Ohio. Another exhibition drawn from St. Lawrence University's permanent collection, North of Sixty: Canadian Inuit Prints, was presented at the Huntington Museum of Art in West Virginia in 2014.
Curator's Statement
Inuit printmaking as we know it today dates back to 1957 when James Houston, a young European-Canadian, helped to create a cooperative graphic arts workshop in Cape Dorset, located in the northeast Canadian Arctic and part of the territory of Nunavut. Cape Dorset artists are well known for stone carvings and stone-cut prints, as well as lithographs, stencil prints, and etchings. Kinngait Studios, the graphic arts arm of the West Baffin Eskimo Co-operative, releases an annual collection of limited edition prints that is made available every fall. The 50th anniversary collection was released in 2009. Other Inuit printmaking studios are located in Holman, Pangnirtung, and Baker Lake.
Inuit artists often depict the power and beauty of the natural world, as well as town and camp life, traditional Inuit stories and mythic creatures, and, more recently, influences from the south. Living in such a harsh environment, these artists pay close attention to and respect the forces of nature, but their work also illustrates at times a certain lyricism in the portrayal of humans and animals with their surroundings.
Pudlo was one of the first Inuit artists to explore nontraditional subject matter; a number of his prints feature airplanes and helicopters, while others show animals interacting in unexpected and sometimes humorous situations. Kenojuak's prints often depict birds, such as loons, geese, owls, gulls, and ravens, woven fluidly together in elaborate designs and bright colors. Many of her prints depict human and animal transformation figures. Kenojuak has received several notable honors and awards from art museums, universities and colleges, and the Canadian government. Kananginak is well known for his prints of hunting, fishing, and Arctic wildlife, including caribou, polar bears, and seals. Younger artists such as Kavavaow are now expanding upon traditional themes in their work, with images depicting ATVs, television sets, and other commercial and material items from the south.
Permanent Collection
St. Lawrence University's permanent collection provides students, faculty, scholars, and a broad regional community the opportunity to study and enjoy original works of art. The collection includes nearly 7,000 art objects and artifacts, with particular strengths in twentieth-century American and European works on paper, including photographs, prints, portfolios, drawings, and artists' books.
Works of art from the collection are regularly utilized for exhibition, classroom, and research purposes. Students actively participate in all aspects of collection management, learning museum standards of art handling and registration, assisting with the installation of exhibitions and campus displays, as well as conducting research for curatorial purposes and educational programs. Tours of the collection storage facility and works of art are provided regularly to St. Lawrence University classes and regional school groups.