Beneath every stone hides a poem...
Adirondack Poetry 1845-2013
"Beneath every stone hides a poem" an exhibition and bibliography of Adirondack poetry from 1845 – 2013 by St Lawrence University student Fellow Holly Brown ('14) is on display in the Special Collections Reading Room, Owen D. Young Library for the Fall 2013 semester.
This June and July senior Holly Brown took Dorothy Plums' famous 1958 Adirondack Bibliography (with updates in 1966 and 1992) and brought it up to date, recording every Adirondack poem she could document.
Working with Special Collections Librarian Mark McMurray the result is a 400 plus title bibliography of poems within the Blue Line.
Additionally Holly selected 36 key Adirondack poems which are on exhibit. As an aspiring poet, Holly also worked with Assistant Professor Sarah Barber writing her own Adirondack inspired poems…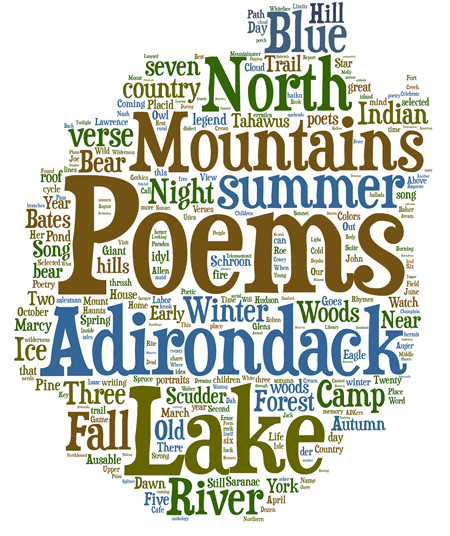 An Introduction to the Bibliography and Exhibition by Holly Brown '14
Why hello there! My name is Holly Brown, a creative writing major and senior here at St. Lawrence. This summer, I was honored with a SLU Fellowship and have been able to spend nine weeks with my favorite thing: poetry.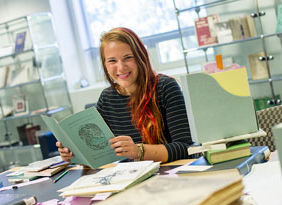 I've been writing since high school, but I have begun writing poetry in a more serious academic setting in the last year. Outside of the classes Techniques of Poetry and Advanced Poetry Workshop (both of which I have already taken) I couldn't help but feel that there were not a huge amount of additional opportunities for me to study poetry specifically. This fellowship allowed me the time and resources to continue my poetic education through both reading and writing.
I wanted to highlight the Adirondack region because, as my adopted home for the last three years (I'm originally from Boxford, Massachusetts), it has been a constant source of material for my own writing. I'm always trying to tackle the question of geography: how is this place different from any other, and how has that shaped who I am? I figured there was no better way to begin to answer this question than to scrutinize all of the poetry about the Adirondacks that I could get my hands on.
Criteria
From the moment that I proposed my exhibition, I've been asking myself "what is an Adirondack poem?" I've spent the last nine weeks slowly figuring out that the answer is not by any means universally accepted or easy to identify. Ultimately, decisions needed to be made, so I decided:
Within the Blueline
Excluding Lake Champlain poems (if only because there are enough poems about that to have another whole exhibit)
Excluding poems about the Revolutionary War and the French and Indian War (because those tended to lean toward historical narrative and away from the Adirondack experience I was trying to represent in this exhibit)
Methodology
I used the Adirondack Bibliographies of Dorothy Plum and Douglas Welch to identify 259 Adirondack poems up to the year 1992, some of which ultimately fell out of my scope of the Adirondacks. At the end of nine weeks, I have a bibliography of 427 sources, made up of books, individual poems from magazines and journals, and selections from anthologies. Though it is easy for me to see a huge difference between a poem about New England and a poem about the Adirondacks, (I currently split my time and thoughts between these two places) it is difficult to pinpoint exactly what role geography plays here. In an interview with Blueline founding editor and Adirondack poet Alice Gilborn, I asked her what she thought the difference between a poem about the Adirondacks and a poem about anywhere else is. What struck me the most was the connection she described between the people and the landscape. This wilderness is unforgiving and those that call this home share their ruggedness with the land.